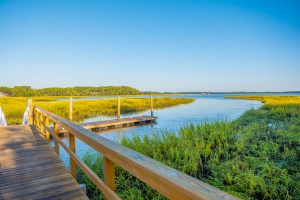 "It is an understatement to say the year 2020 has been filled with challenges and full of surprises," said Lawrence Yun, Chief Economist of the National Association of Realtors (NAR). "Yet, one astonishing development has been the hot housing market as consumers eyed record-low mortgage rates and reconsidered what a home should be in a new economy with flexible work-from-home schedules."
In 2020, home sales nationally will reach 5.52 million, the highest annual mark since 2006, with the median home price setting a record high of $293,000, according to NAR. In South Carolina, over 101,000 home sales were recorded throughout the state in 2020. At this time, we are also experiencing the lowest inventory in 20 years across the state with available homes for sale -37%yoy and -50% from 2017.
On a more local level, within the Hilton Head MLS, we rounded out 2020 with Closed sales +24% to end the year at 6,781. On the listing side, comparing 2020 to the prior year, the number of homes available for sale was lower by 51.3%. There were ONLY 1,020 active listings at the end of 2020. The overall median sales price increased 13% to $367,250 for the year. Detached home prices were up 11.5% yoy and attached home (villas) prices were up 17%.
The Charleston metro area was identified as one of the Top 10 most resilient housing markets in the nation during 2020, which we will include our area as part of this "Lowcountry" market. South Carolina was the #2 inbound state for moves in the country last year according to the United Van Lines annual survey which tracks interstate moves. Topping the list of outbound locations was New Jersey (70% outbound), which has held the spot for the past three years (as Realtors in South Carolina, we are not surprised by this). Among the top inbound states were Idaho (70%), South Carolina (64%), Oregon (63%), South Dakota (62%) and Arizona (62%), while New York (67%), Illinois (67%), Connecticut (63%) and California (59%) were among the states experiencing the largest exoduses.
Just another statistic to consider….where we are today versus the PEAK of the real estate market in our area in 2005. The John Burns Cycle indicates that the majority of the top new home markets (Atlanta, Phoenix, Charlotte, Nashville, etc) are back in the Maturing or Growing phase of the long term housing cycle whereas markets such as San Francisco, New York, Miami, Boston and Chicago are entering a Slowing/Falling cycle. We are still firmly in the Growing stage of our local housing market.
According to data in the Hilton Head MLS, there were 2673 homes sold (we didn't include villas) with an average price of $630,902 in 2005. The highest priced sale was 12 Painted Bunting in Sea Pines which sat on a double oceanfront lot for $8,000,000. In 2020, 6,781 homes sold with an average sales price of $367,500. The highest priced sale in the MLS was 82 Brams Point Road in Spanish Wells which also, ironically, closed at $8,000,000. The volume that we experienced last year was truly exceptional. The highest volume we have ever seen was184 contracts during one week in 2005. In 2020, we had 13 separate weeks of contracts/pending sales above that number.
The Melton Group believes that we will continue to see low inventory in the Hilton Head Island and Bluffton area in the year ahead and this region will remain as one of the most desirable locations in the US to move to in 2021. As of today, home inventory is down by more than 68% on the Island as compared to the 2017-2019 monthly average and down by more than 62% in Bluffton. The inventory crunch has led to bidding wars, multiple offers and the use of escalation clauses.
However, as mentioned earlier, we have still not returned to "peak pricing" in our area so there are still a number of opportunities for buyers wishing to purchase a new home in 2021. We also believe that land will be at a premium this year as many are opting to build instead of fighting over limited inventory.
If you are thinking of buying a property soon, please be prepared with a pre-approval letter or proof of funds and be ready to make a decision before your dream property vanishes. If you are thinking of selling your property in the Lowcountry, please call us as we are working with numerous buyers at the moment waiting for that PERFECT property to come to the market. The Melton Group is here to help!
VIEW THE REPORT FROM THE HILTON HEAD AREA REALTORS HERE
Here's to a happy and healthy 2021!
Alison Melton, REALTOR®, CLHMS, CNE
The Melton Group, Managing Partner
Charter One Realty
1024 Berkeley Hall Boulevard
Bluffton, SC 29909
Email: alison@luxelowcountry.com
Mobile: 843-290-3640
Website: www.luxelowcountry.com